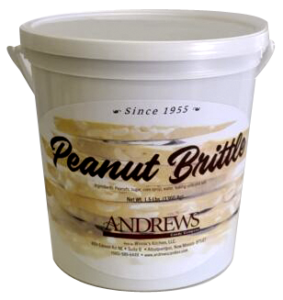 The best damn brittle in the world!
Not to boast, but the accolades bestowed upon our brittle by numerous satisfied customers are a testament to its exceptional quality. With a rich legacy spanning 68 years in the industry, it is evident that our unwavering dedication has borne fruit. Our brittles have etched their mark, becoming a cherished tradition in various corners of the nation, an integral part of the holiday festivities. What was once a modest venture initiated by a group of school teachers seeking Winnie's peanut brittle as heartfelt presents has blossomed into a phenomenon embraced by corporations gifting their clientele and staff, as well as a cornerstone of fundraising campaigns across diverse organizations. Our success story has been illuminated through appearances in esteemed mail order catalogs, a testament to the remarkable strides we've taken over the years.
The hallmark of our brittle lies in its delicate crispness, a sublime sensation that defies gravity. Its exquisite crunchiness is harmonized by its ability to gracefully evade any sticky entanglements with your teeth. A mere taste of our brittle is a gateway to addiction; one bite is all it takes to become captivated. To embark on this delectable journey, venture to the "Shop" section nestled within our main menu and seize the opportunity to savor this extraordinary brittle for yourself. Your cravings deserve to be satisfied; order your batch of brittle today.